I think I like this idea of doing a kindness update every Sunday - ends the week on a positive note.
My "walking woman" friend is hanging in there. I've seen her a couple of times. She said she felt funny ringing the bell but now that we've talked a second time I think she will. I told her my Dr. doesn't want me starting anything strenuous right now, not until I see the back specialist. I have to see a "Muscular Skeletal" specialist - makes me think of a comic book hero. I also have to go to the "Hospital for Joint Diseases" - that just makes me want a joint! No biggie - just new issues associated with having scoliosis. Actually the scoliosis is more damaging to my psyche - it could have been corrected when I was a child but the "wolves" had other things to do. I carry a wee bit of baggage with me regarding my parents - can ya tell? I'm going to explain that one day.
But back to kindness
I told "walking woman" about the warm-up type exercises I do for my back and we talked about doing them together - they might make her walking more comfy. I assured her that she didn't need to do this unless she really wanted to - she clearly has a routine established and that is critical to success and I do not want to disrupt that.
I've been working a lot this week so not a lot of outside contact - I'm ashamed to say the squirrels only got fed twice this week - the bags of food were too heavy to carry from the store. I caught one of them giving me a dirty look.
I'm still collecting stray carts at the Stop 'N Shop and have now also been contributing to the box of supplies for the soldiers. I used to throw some razors or socks in there once in awhile but now I add something every time. Some wonderful person handles packing up and shipping off all the donations. Would you believe our soldiers don't have razors, socks, calling cards, candy ... Shameful! But then again what do I expect from an administration that can't send them there with the right armor. Guess the money is being used for Blackwater.
I'm a little cranky today - back hurts and I have a ton of data entry to do and I'm a bit anxious about Mia.
This is Mia ...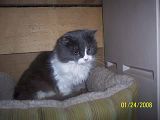 Mia will be joining us soon. Here she is pictured in the barn of a good soul who cares for as many strays as he can. They have beds and there's heat and shelter from the elements. What I know about her so far is:
She's 4 or 5 - same age as Siren
She's fixed and healthy - she'll be getting another exam before coming here but no problems are expected
She likes people and is very affectionate
They're thrilled someone wants her since she's a bit sad not to be around her own human, they do what they can to play and cuddle but there is only so much time and so many animals
She handles the tom-cats in the barn firmly - usually with a stare or a swat so there is hope she'll handle Siren.
Her nose is heart shaped. I'll take better pictures when she arrives. I wanted to show the wood panels put up to shelter the strays and the heat vent and all the work that wonderful people do in the name of kindness to all creatures.
I must admit I'm a little nervous about introducing Mia and Siren but I re-read my behavior books and spoke to the vet and well - I'm hopeful.

And I almost forgot! Mia is the chosen name for my (someday when they're ready) grand-daughter! How cool is that - perhaps a bit of meant to be? And my grand-daughter can tell people she was named after a cat.
Be Kind Out There