Before buying this house I lived in apartments all my life. Somebody else is responsible for water and heat and wires.
The room I'm going to share with you is, according to my daughter-in-law, the laundry room, my son calls it - "down where I have my tools" - or - "where the beer is" - or - "did you bring up any --- from there".
I call it 'The Scary Room' - I'm not afraid of it anymore, that disappeared the first time I plugged the leak, turned off the gas, and pumped the pump. It's name stuck out of love and admiration for the fragile maze of incomprehensible workings that make a building a home.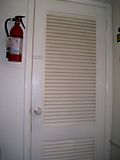 The door to the scary room - right by my desk, that way I can always hear the moaning, screeching, clacking of whatever is about to cost thousands to repair.
Looks pretty benign when you first enter.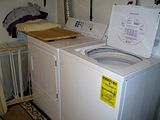 These machines I can manage - funny how others in the house have difficulty - wonder if it's a hormone thing?
Even the washer/dryer have demons - you must be able to turn this little red dial at the first scent of gas. Again - I appear to be the only person who has a sense of smell.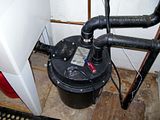 the water from the washer pumps into the pump that ...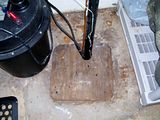 ... pumps into the hole, that generates the pool that flows back up the pipe that lives in the house that morons built.
give you one guess why the pump that pumps needs a special alarm!?
and my bedroom is right above - how convenient (for everyone else)
although I enjoy having a window while folding (balling up) sheets - the real reason we put it in was to have a way to pump out the water when the pumps that pump the pumps stop pumping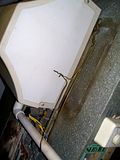 the hanger is my handiwork - 3 men stood around scratching their balls trying to decide how to keep thing #1 from falling off of thing #2. I got the hanger, got the wire cutters and viola! - they said they'd be back with clamps - that was 3 years ago.
blue and red flames in here are a good thing - until you have to put your hand in there to flip the thingie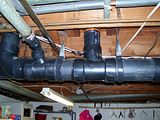 you're gazing at my trip to San Francisco! any and all black pipes you see were ALL replaced at once since they decided to sprout holes together. synchronized flooding!
Oh well - California will still be there, or not if you believe in global warming.
Meet ya on the beach in Vegas?
Water that is invited into the house can be controlled here.
I have no clue what these things do but I think they're pretty and I think it's really cool that I own concrete.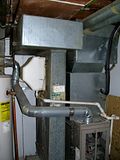 scary stuff that is as old as dirt
I believe the Internet runs through here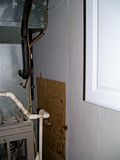 and ... when all else fails I can open this little door, climb under the stairs and rock back and forth chanting "me precious, me precious"
or ... it's a great place to smoke a joint when the freakin' kids are home
Hope you like my scary room. There's a lovely house attached to it - if you're interested you can buy it for a lot less than we paid for it as long as you don't mind waiting until the economy is better so that we can afford to leave it. Perhaps your grandkids are interested?
To join Heads or Tails Tuesday or to check out others go to
Skittle's Place