I have about half a dozen posts started but between jobs and still recovering from one Friday night of fun I'm not pleased with any of them. They're just not worthy of you – my lovely readers.

I was going to just plunge back into work and leave blogging for a clearer day but of course I decided to visit a few blogs first. I really needed a laugh so I went over to Jay, the hilarious cynical bastard, and there was no new post, I mean really! I need to laugh, how could he not know that. I did giggle at his response to my last comment so all was not lost. While checking out the results of Jay's last poll (Go Animal!) I saw his most recent award, it's more like a sweet gift actually. I scanned over it and saw it was from the lovely Jo so I headed over to see what it was all about.

There is all kinds of givin' and gettin' goin' on at Jo's.

She has received her third Excellent blog award in just two weeks! Richly deserved, there are not enough E's out there for Jo. I was enjoying book-marking the people she was passing the award on to – a couple of new ones to me – and I was loving all the great colors she concocted when I spied Jay's award. Jo made it herself. It's a lovely heart shaped pat of butter inscribed with "Better than Butter". I was so pleased for Jay. He is better than butter! He's like the popcorn that goes with the butter, the yummy English Muffin that the butter cuddles into – he's all that butter and a bag of chips. I've never known what that means but I use it anyway.

As I scrolled down to other 'Better than Butter' folks I almost missed my own name! Yes – I am 'Better than Butter'. Personally I always thought I was cottage cheese but that may be because of my thighs. Since Jo is far kinder to me than I am I will totally believe that I AM 'Better than Butter'.

Thanks Jo! I don't know how to describe how your words made me feel. Delicious comes to mind. I just know that I am so grateful.

And speaking of grateful …

My good friend Raven gave me this "Gratitude is Attitude" award. In describing the award she quoted its creator: please see Raven's site for full quote and more Gratitude is Attitude recipients.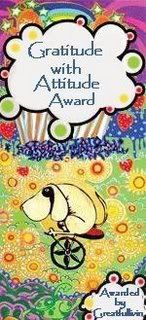 "Gratitude …. It is not about giving in, lying down or accepting everybody else's rules it's about making your own rules!... Gratitude IS Attitude!"

I'm certainly grateful to know Raven. If I was a museum she would be the curator. An art gallery she would be the master of restoration. If I was a zoo (remember now, I was raised by wolves) then Raven would be the naturalist, the wolf whisperer. Raven is a healing presence in a sometimes hurtful world.

I'd like to pass the 'Gratitude is Attitude' award on to:

Leighann – if I was still in school Leighann is the one I'd want to hang out with. She is smart, funny, and tough. You have to read Leighann's blog for at least a week to even begin to get a sense of all there is to her. She'll one day sound like a crazy, sexy wanton woman. Next day comes along and she is Mommy of the Year, rushing to the aid of any one of her lovely children. She will then Wow you with a wonderful work of fiction. Leighann always makes me feel like I'm one of the cool kids.

Bobbie – a calm and steady voice. Bobbie writes about old friends and family with love and reverence. She also has a great take on current events and politics.

Odat – she often makes me smile, especially on Monkey Monday. Odat can also pierce your heart and soul with her honest and open posts on her own life and love and struggle.

tt – talk about a good soul. tt is a caring and empathetic person. She writes about worrying about an elderly driver she encountered for a moment with as much feeling as she writes about her Dad. She makes you feel you could (and should) tell her anything.

Isn't it lovely to have so many people to be grateful for!?

Now I must finish a project for the morning and then off to a dinner of popcorn with extra butter. Good Times!