I guess it's no secret that I love taking photos of my granddaughter Hope. Now that she's walking and (kinda) talking I feel the need to capture the action.
I got a Flip Camcorder on September 2nd.
On September 3rd I shot 27 videos.
Don't get scared. I'm only sharing one of them and it's just a little over a minute long.
UPDATE: So uploading directly to the blog didn't work and linking to My Flipshare Channel didn't work so I just gave up and put the video on Youtube.

BUT!!!! Whenever I embed a Youtube video my comments disappear for me and for many others so I put the video in as a ...

... SEPARATE POST RIGHT BELOW

OY OY OY
I'm sharing this at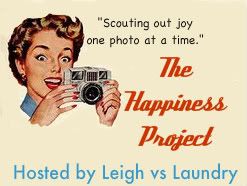 since it's pretty obvious that Hope Makes Me Happy
oh - Hope's Dad is also in the video but don't tell him