Bet that got your attention!
Mia, my newly adopted cat, will be arriving soon so I've been making some changes to the house in preparation. Since Siren is super suspicious (even for a cat!) I've been making the changes slowly and with as much subtlety as my child like anticipation allows.
I thought I'd share a bit of Siren's (and soon Mia's) world:
Since Siren and JR could not get along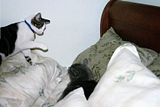 ...and JR was old and sick I converted my spare/craft/photography/MINE room into Siren's room. I had hoped it would be for just a bit but JR got worse and the stress of Siren was too much for him. We put a screen door on the room so Siren could feel airy and included. Several times a day I would shut JR up in my bedroom and let Siren run around.
It took my son hours to make a screen door fit an interior doorway but he did a great job. Some folks think it's crazy - I think it's wonderful. And I don't miss my MINE room at all. The joy of sharing my space with furry folks is worth it.
There are places to perch and scratch
With a great view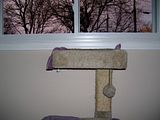 - yes I have trailer windows. they're illegal now but something about grandfathers keeps me out of trouble LOL
There are tons of toys
And a find in the clearance aisle at Pier 1 makes for a classy toy chest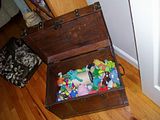 There are strategically placed play centers throughout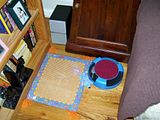 This is Siren's latest favorite. I call it his "lover" since he buries himself in it and does some kind of gyrating, slow motion, trance like dance with it. For a guy without all his equipment he's got some moves.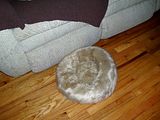 There are 2 of these. Hopefully Mia will like them, Siren moves them around the house but never uses them.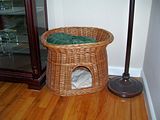 There are 2 beds under the quilt. Siren likes to layer.
Spa facilities are on premises
and you can always just curl up and read a good book
And here is Mia's Launching Pad. The only newness Siren has experienced so far. I'm going to keep Mia in the bedroom while all the formal introduction ceremonies are going on. All her stuff is hidden in the basement closet til she gets here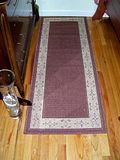 A quick note on the Everyday Kindness front: "walking woman" is going strong and has made friends with "not so creepy guy and his dogs". I am having a ball playing bumper carts at the Stop 'N Shop - a new career perhaps? I have also almost made it through all on the blog roll, I've been calling it the circle. In my travels I came across a comment to another member of the circle - the commenter was saying that they didn't "need a blog roll to be kind" - well that is certainly true in the same manner that you don't need a book club to be able to read. The community doesn't make you kind - it gives you a place to share moments and enjoy a journey together.
Be Kind Out There
and
Adopt a Shelter Animal