We're having a weather event here. Sorry for all of you who woke up this morning to just plain – well – air and elements. Might as well just go back to bed, put away your fancy clothes and wait for a weather event – one is bound to come your way.

Since Monday afternoon the local and networks news whores have been carrying on about snow and ice and rain (and lions and tigers and bears) Oh My!

We've had a record low snow fall this season so I understand the excitement – how wonderful to be able to show video of kids sledding, dogs frolicking and big manly men shoveling. That's fun. BUT NO …

Instead we have been regaled with watches, and constantly admonished to pay attention – these watches are going to be upgraded to warnings any moment now! Within seconds of the first flake they began interrupting with "Winter Storm Watch Bulletins". The ominous opening music alone is enough to make you run for cover. Then Anchorman Andy appears – all stoic and concerned to introduce Weatherman Wally who is so excited he's practically humping his pointer as he crawls across the green screen.

"Potential for 2 to 4 inches of snow" – Holy crap! – will my roof hold the weight!?

"As the temperatures dip roads will freeze" – wow – he's a scientist too.

"When the snow/ice/rain line moves north the southern part of the viewing area will experience rain" – would you believe I had to think about that one!? Swear – I thought it was so obvious that I must be missing something.

During the regular evening broadcast they open with shots of wheels spinning and promise to tell us of "tons of accidents on the roadways" but first we have to let them cover the story of the man who tried to kill his shrink with a hammer.

And the irony is lost on them that, immediately following the advice to "stay off the roads, stay off the roads", they tell us to run out and buy a Megamillions ticket. Jackpot's up to 132 million! risk it, risk it.

Ya know – if you're going to preach fire and brimstone and warn of the end of my driving world then at least go all the way. I want a gospel choir. I want a preacher in full robes dancing in front of the weather screen shouting Hallelujah and telling me that I will indeed go straight to hell – soon as my tires hit Route 35, right by the Dairy Queen.

I stopped counting the number of times I was told to drive slowly. I think I'm safe in saying that anyone stupid enough to speed through icy roads isn't watching the news so stop preaching to the choir Weatherman Wally. Or – bring out the freakin' actual choir.

I understand the need to inform people – flights are delayed, spouse might be running late, night school might be cancelled, morning classes might be starting late … that's what the news is for. BUT NO …

Carry on like a lunatic and be as scary as possible. It's not as if daily life is stressful; why not rile people up a bit. After all if you get them feeling that the world is coming to an end they're bound to tune in to find out exactly what time they should kiss their asses goodbye.

I guess you figured out I'm no fan of the mainstream news media – I blame them for dropping the ball on Iraq, for misinforming people during a critical election year, for pandering to ignorance and fear - and not just Fox – at least with Fox you know you're getting ignorance and fear.

But this is the weather, just the weather. When I traveled for my old job with The Evil Empire Corporation I would wake up in Chicago to hear "9 degrees at the hour, 6 to 8 inches expected by noon, have a great day" In Minneapolis I fell asleep to "wind chills as low as -28 tonight, tune in beginning at 5 AM for updated news, weather and traffic, have a good night"

What the hell happened!? Is everything a crisis? How do we really know when to react if there's nothing but hysteria? And stop trying to make the weather interesting or entertaining. Just tell me so I know what to wear and I know what roads to avoid.

I know I'm barking at the moon! The media is so out of control and the handful of corporations that own it are so huge and greedy that it will take an ACTUAL REAL force of nature to blow it all down.

And they're powerful, omnipotent even – this morning I had very, very bad thoughts about Weatherman Wally. Then I left for an appointment and when I came back to my car, to rush home before the yard floods into the basement, my car was dead! Dead! Killed I assume by secret operatives devoted to Weatherman Wally and his ilk.

From now on, regardless of how gorgeous my hair looks, I am putting my tin foil hat back on whenever I watch the news.

Wally is one scary dude!

Evidence of me shuffling aimlessly around my driveway, caught in the panic of this winter event. And yes I have big feet - they help me carry my big boobs.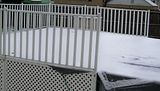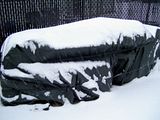 My pool deck and my shrouded patio - just calmly waiting for summer.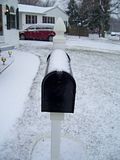 But until then, look how lovely ordinary objects become when covered in snow. Perhaps on my next date (who am I kidding) I will arrange some lovely snowflakes in my hair, and cascade them down my shoulders.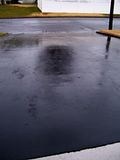 Weatherman Wally will be so disappointed! Look at my clear driveway. And it's 50 degrees out so that's not black ice, just a shadow. But wait ... what's this I see?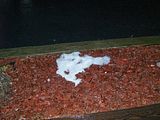 ...a remnant of our weather event? Who knows what danger lurks in my mulch.