The next stop on my
PROJECT BLACK
home tour picks up at the side door.
We're greeted by Kitty Klock, a gift from my nephew.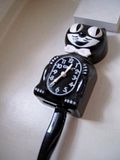 This is the far side of the kitchen complete with brand new fridge - it was delivered Friday. The box by the doorway is waiting to be kicked into the basement so I can spend Sunday working on it - arghhh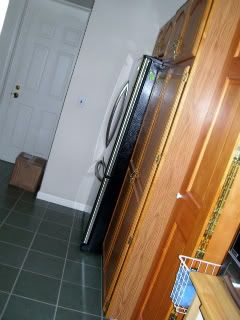 Little green magnet man appears to like his new home
This is the other side of the kitchen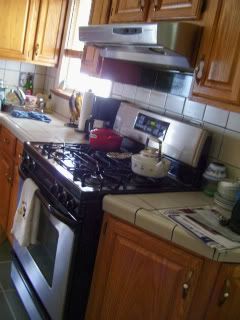 Here's the range. I like the reflection and the bits of color.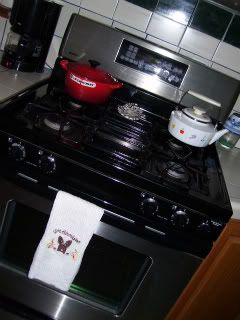 Another cat accessory, a spoon rest. He had a partner who I suspect was killed in a tragic dishwashing accident although no one has confessed yet.
My DIL loves knives and orange and loves Rachael Ray (insert your own joke) so I got her this set for Christmas. The microwave is also brand new. Apparently the old microwave had a suicide pact with the old fridge.
More knives under the microwave. I tend to stay out of the kitchen when I'm in a bad mood. Oy!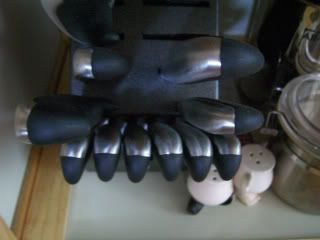 The uh very ripe bananas are for banana bread and a puree that my DIL makes. I was playing around with light and shadow to compensate for the glare from the window and liked the way this came out. I call it "Bananas in the Fog".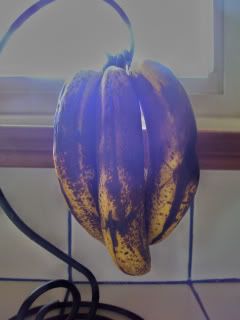 I just got the black dish drainer because it stays clean longer. The towel under it is some weird super water absorber thingie from QVC. My son and his wife bitch about not having a dishwasher which I find hilarious since I wash the dishes 99.9% of the time.
We're back at the side door again. This shot is titled "Nothing is Simple". The lamp post is supposed to come on based on the timer but it doesn't so I gave up and just turn it on at sunset. The carport switch MUST stay in the on position for the motion sensor to work. If you turn it off because you can't freakin' read and pay attention (they shall remain nameless!) then it has to be set again. This involves my son on a ladder fiddlin' with tiny tiny knobs while I walk up and down the driveway saying - "does it come on yet?, does it come on yet?".
At night Kitty is visible from outside. He was up there for years before I ever realized that. A friend's little granddaughter freaked out one night and was screaming "black cat on the ceiling!!" and "that cat will get me!!". She refused to come inside until we figured out what she was seeing. She now comes in using the front door.
So there ya have it. Believe it or not I took 53 shots of the kitchen yesterday. These were (I hope) the most interesting to look at, they were the most Project Black'ish.
Make sure to check out all the other
PROJECT BLACK
participants.