This week's HoT is anything green. To join in or to see what other green stuff is lurking in the blogger world check out Skittle's Place

My sweet little old lady, my VW Jetta is green.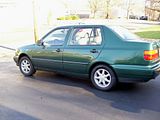 She has been with me since 1995 and has been a good girl until recently.

Menopause is hitting this bitch hard!

She has become the "Lucifer" that inspired this past Saturday's Wordzzle entry.

In the past 4 weeks she has been boosted twice – battery is brand new but some other thingie attached to the whozit malfunctioned and drained the battery. A battery boost from AAA is like a quickie with a stranger, it's all fun and games until you stop – then nobody knows what to do or say.

"Lucifer" has taken a ride on a flatbed. Oh how she loved that – I could see it in her grill, she's tired and wants to know why she can't ride all the time. She's been carrying me for 13 lucky years – when is it her turn.

She has also lost the clips that attach the plastic thing to the foam thing that is NOT supposed to be grating against the wheel well.

Last but not least her headlights went out but it wasn't the bulb – OH NO – heaven forbid it be a $10 bulb! It was the wire that I believe is attached to every other electronic thing in the dashboard, cause once the headlights went back on the dashboard died. I can see where I'm going I just can't tell how fast I'm getting there.

The alarm system may or may not engage, the back windows must NOT be lowered – they will not rise again. At least she left me my window although it can't go all the way down, just ¾ of the way. The intermittent wipers take themselves literally; sometimes they wipe, most times they don't. They are particularly sensitive to rain. The trunk won't open from the outside but the trunk release button inside Lucifer often sticks, this wasn't a big deal until the night the back tire exploded. It took two highway patrol officers and the AAA guy 10 minutes to get the spare tire out.

I travel into Manhattan a lot – the list of Dos/Don'ts/Cautions that I leave with the parking attendants is a work of art. Too bad they can't read it and I haven't been able to have it translated into 17 languages.

And here's Lucifer's interior -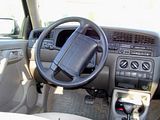 I know it's not green but I thought you might like to see where I spend a lot of my time, usually in the rain or in the middle of the night, my nose pressed against the window like a dog waiting for Mommy to come out of the supermarket. Muttering to myself – "Is that AAA!?, Is that AAA!? " only to realize it's still not AAA and the guy walking towards me looks a lot like a serial killer.

If only the doors locked.