Work and Taxes! I know it's supposed to be Death and Taxes but I'm still kicking and I intend to keep it that way. Besides – only the good die young and as a customer at the store told me – "You're a cheeky girl".

I met her yesterday. She's a tiny lady and she was trying to reach a blouse that was hanging very high up. I'm 5'9" and I have to stretch to reach up there. Note to genius merchandise setters – petite means small. I saw her out of the corner of my eye but I was alone in the department and the register was busy. I tried to get some customer assistance but apparently everyone in the adjoining department had been rendered temporarily deaf.

Finally the checkout line cleared and I was about to go over to petites when she rounded the corner with a huge smile on her face and blouse in hand. "Terribly thoughtful of you to leave that ladder there" she had the most wonderful Scottish accent. I love accents – well technically I suppose we all have an accent but I just can't count Jerseyese as an accent. And my Motherland Brooklyn accent is only useful when you want someone to be scared of you.

"You climbed the ladder!" the look on my face must have been priceless because she told me to "calm down, no one saw me, that was why I had to climb it". I apologized for the lack of customer assistance. She cut me off by saying that she saw how long the line was and she heard me on the paging system. "You sound very good on the airwaves" she laughed, "very professional and commanding". I thanked her and told her I thought I always sounded angry since the only time I needed to page someone was when I couldn't leave the register. "Ahhh trapped by the masses yearning for their clearance items" and she laughed again. She even laughed in a melodic accent.

As we were chatting one of the undead from another department schlepped over. "Ya need somethun?" "I do, I do" I told her, trying to get her to actually look up, "I can't leave the register and there's an elderly lady over in petites, maybe she's in seasonal by now and she looks confused and disoriented and there's all the ladders and hardware everywhere from the reset and well – if anything happens to her they're going to ask why I didn't page and I'm going to have to tell them I did". "It's been almost a half hour since I paged, god I hope she's all right!"

There was almost a flicker of interest on undead's face as she rushed off to save the day, or at least her ass.

"That was mean" lovely Scottish lady tells me. I try to look properly ashamed but the sight of undead girl scurrying around is just too delicious. "I know I shouldn't but …" Scottish lady cuts me off, "Oh no, sending a fool on a fool's mission is always a good idea, keeps them out of trouble". "It's mean to refer to me as elderly". Again – me and my face that can not arrange itself in time. "Oh you look like you're going to weep!" "I'm kidding, clearly I'm elderly, I'm ancient – I'll be 92 next month". "92!" I just had to laugh out loud. "and here I am feeling old!" "Oh you're just a girl" she smiles and touches my hand, "a cheeky girl".

Lovely Scottish Lady and I chatted for quite a while. Undead girl came back looking crushed that she couldn't find anyone to help. I pointed out to her that there were several people throwing clearance shoes around but she didn't get it. She was supposed to be looking for an endangered elderly woman and that was her only focus. I decided to be kind and send her back to her corner.

Lovely Scottish Lady's daughter came to collect Mom. I was introduced as her "sweet new friend". We all talked a bit about her visit here and about Scotland. She gave me her address in Scotland and told me to visit. Her daughter laughed and thanked me for bursting the myth that everyone "over here" was unfriendly. "I never said Americans were unfriendly" Lovely Scottish Lady admonishes her daughter, "that was your Father's opinion and I've told you many times, your Father could be an ass!"

And then they were off.

Later one of the "customer un-assistance managers" came by and asked if we had ever found the "lost old woman". I told her we had not and that I assumed she had just left after being ignored for so long. She seemed pleased to lose a customer. "I would have come sooner but I was helping some woman with a ridiculous Irish accent in shoes" she rolls her eyes. "She was looking for sandals for her 92 year old Mother, sandals at 92, how stupid!"

So I made a friend where others saw inconvenience and heard ridiculous accents from the wrong country.

The only time my Nana would ever get genuinely angry with me was when she felt I was "ignoring your gift, feeling silly about being special, you can talk to anyone and you have a giant well of kindness in your heart. "You're a good old soul, don't make me angry by losing that, I'll come back and haunt you".

Stay put Nana. It's all good.

I wasn't going to take the time to tell this story, at least not now. I am overwhelmed with projects and I've upped my giant-ass store hours so basically all I do is work. And I'm freaking out about my tax bill that I can't pay because clients owe me money for 90+ days.

But – as Bette sings – "but you gotta have friends".

And I do. Right here in Blogger City.

Bobbie gave me this wonderful award: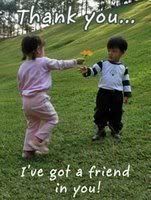 Thank You Bobbie for your kind words. And most of all thank you for reminding me that there is always time to stop for a friend.

I have so many people I want to pass this on to that I'm going to do that later. I must answer my voice-mail and I must finish my PFC.

One last funny – I absent-mindedly picked up the phone last night while I was working on my PFC. Never do that! Caller ID is your friend. It was a client who just started going on and on and on. "You sound distracted" she finally comes up for air. "I am, I'm working on my PFC". I couldn't believe the words came out! "Is that the PFC for HQ?"

"Why YES! – yes it is".

So take a moment to enjoy the image of this bitchy, whiny client wondering what my PFC is going to say about her when it gets to HQ!