I am going to give myself until midnight tomorrow, Friday, to finish my PFC entry. If it's done then great, if it's understandable and says something then great, otherwise I'm just going to skip this month.

I will now whine for one run on sentence and then I'll clue you in on pretty things to look at.

Ready?

I am so freaking tired and feeling just a tad sorry for myself and sick to death of how nothing ever seems to get easier, it just gets different and then even the different becomes tiring.

OK – I can't do it in one sentence!

I'm just stressed, that's all. The store is just waiting to explode because business is so off and the managers are all untrained unprofessionals who are being called to task for things they don't even understand let alone control.

And then me precious business is full of nagging, bitching, penny pinching assholes who don't know what they want but they know they need to keep asking for things because that's what someone told them when they took "Corporate Bullshit 101".

I'm good again. I will now return you to my usual self.

So …

Through the lovely CG I found the wonderful Anna. Anna started and hosted Project Yellow and every day I would tell myself that I was going to share some yellow but the past couple of weeks have been rough (we're not going there again) and I never did. The lovely thing that happened though is that I now notice yellow everywhere. One of the wonders of photography is that it makes you take note; it allows you to see with your heart and your soul and your mind.

Through Anna I discovered Mark. And he is hosting 'Project Looking Through'. Go to Mark's place and look at the April 15 post to read all about the project. It's really simple – photos that give a sense of looking through something.

Of course I don't have any time to take new photos, there I go again!, but I take so many all the time that it only took a few moments to find two.

They're both of Siren which is fitting since I've always felt that Siren was looking through – through his bad beginnings to try and be happier, through his fears to try and feel safer.

The first is how Siren starts most days. Just surveying the world at his feet. I love photos of people (and cats) looking away. They always seem poignant. They always feel hopeful or tender.









This second one is Siren peeking through his special screen door. I played with the color a bit to give what I felt was an 'Old West' feeling to it. I thought that matched the etching on the door. It certainly matches Siren's personality.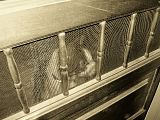 I feel so much happier now that I shared some pretty and I joined in other prettiness. Make sure to check out Mark's place for all the others who are sharing.

And now I must return to the cocky-doody crapola that passes itself off as the work I do to pay for the house that morons built.

I breathe in and out and whisper – "let it slide, let it slide"