I'm really enjoying this project. I get to share some photos, stay in touch but still keep as many active brain cells as possible focused on work.
This first photo was taken when we were looking at the house we now live in. It is the hallway of 'my side' of the house we converted into a kind of, well not really, but better than nothing Mother/Daughter (why not son?).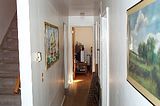 Once we bought the house we closed up the arch by the stairway that leads to my son's second floor. We also put new doors on all the rooms and spiffed up the walls and floor. As much as I love photos and art I decided to leave the walls bare since the hall is so narrow. I like to feel as roomy as possible.
The second photo is taken pointing in the same direction - the room Mia is standing in is my bedroom. I'm taking the photo from 'Siren's Special Screen Door' so you're not getting the whole hallway feel but all you're missing is walls. That pile of clothes is stuff I wore while Siren and then Mia sat with me. I was trying to get both of them to like all our smells. And yes, those are my shoes. My feet are big but as I told Leighann, they help me hold up my big boobs.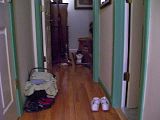 So in essence you're looking through my hallway then and now.
Tomorrow is Wordzzle and I'm going to try and be creative. I have given up on this month's PFC. My head and eyes hurt too much from data entry and spreadsheets. Plus I want to relax a bit over the weekend by reading all the others.
Happy Friday Night kids!
To see more Project Looking Through please visit Mark