The wonderful place of amazing images that is
Anna's
site is hosting Project Green. I never had a chance to take part in the previous project, Project Yellow, but I am indebted to Anna for making me so much more aware of all the color around me. Each day on the way to and from work or errands I notice so much more yellow and now green.
Mark's
Project Looking Through continues to be a huge success as well, some amazing photography to admire.
Not wanting to let go of Looking Through and wanting to Be Green on Earth Day I hopefully combined the two.
In March of 2007 The American Museum of Natural History in NYC had an incredible special, interactive exhibit of butterflies.
The exhibit area was full of green. Looking through the green to find the butterflies was like being on a nature hunt, right there on the Upper West Side of Manhattan.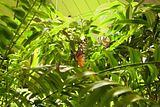 If you didn't want to pay the big bucks or stand on the long lines you could walk along the outside corridor of the exhibit area and look through. I had to be part of all that was happening inside but did long to be out there when the 100+ degree temperatures and the crush of people became a little overwhelming.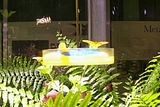 But then you'd have moments like these. To watch this amazing creature eat her lunch was sublime. I got to feed some of her friends but of course the photographer never gets to be in the picture. There was one man there with his two young daughters; they squealed with delight as butterflies landed on Dad's hat. Later on I took a photo for them – Dad and his two girls, each with a butterfly on their nose. As happy as the girls were, the look of pure love and joy on Dad's face made me happy for days after.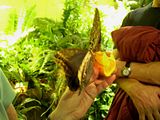 Remember – it ain't easy being green but the benefits are worth the effort.