Siren woke up one morning to find this guy hanging on to his window screen. Thankfully he was outside or this little creature would not have stood a chance. Siren pounding on the screen and yowling brought me running.

I wish I could have gotten some shots from inside but I was more concerned about his safety. I closed the window. By the time I came back with the camera he had moved away from Siren's stare.

I had to take the photos from outside where the windows are a lot harder to get close to.

The first photo shows how he moved a little bit up and away from the window – and Siren.

I hope the other 2 shots show how really pretty he was. - click to enlarge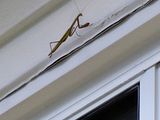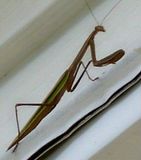 Go to Misty's Place to see more camera critters.

If you're interested in knowing more about Siren's window clinging buddy check it out Here.